Here's where to find live music from July to September in Baltimore and beyond.
Posted by Veronica Carrillo on Wednesday, July 6, 2022 at 1:18 PM
By Veronica Carrillo / July 6, 2022
Comment
Last year, concerts were still bouncing back from the pandemic, but this summer, live music is back in full swing. Baltimore and its neighboring areas are hosting a wide array of concerts that include everything from rock to pop, country to EDM, up-and-comers to seasoned music veterans, and everything in between.
Luckily for locals, Maryland is chock full of top-tier venues that provide the amazing atmosphere that great music calls for. We've got the marvelous Merriweather Post Pavilion, Pier Six poking out into the harbor, and our rockin' Rams Head Live, just to name a few.
This summer also brings along progress for some revitalized, and even brand new music destinations. On Warner Street in South Baltimore, a spot called The Paramount is under construction between M&T bank stadium and Horseshoe Casino. And the Baltimore Arena, formerly known as Royal Farms Arena, is undergoing a $200 million renovation. Pharrell Williams recently announced his partnership with the latter project, which is expected to reopen in February. Sadly, these developments aren't expected to debut until summer is long gone, but it's a big season for building.
In the meantime, we can enjoy some of our fan-favorite venues and their impressive summer lineups. Here's a list of some of the hottest shows coming to town:
Contemporary
7/23: Rovo Monty with :3LON and Amy Reid
The Ottobar
You might recognize Rovo Monty from Netflix's Dark City: Beneath the Beat, but he's perhaps better known for his sonic-and-visual-infused shows that spotlight his bold, genre-defying style. Experience Monty's blend of pop, house, and R&B—showcased in his new album Water Sign—as he takes the Ottobar stage after fellow Baltimore greats :3LON and Amy Reid.
7/25: The Black Keys
Merriweather Post Pavilion
The Black Keys just dropped their new album, Dropout Boogie—the namesake of their summer tour—in May. Despite their hit song "Lonely Boy," they will have good company at this show. Special guests Band of Horses are joining The Keys, and we can expect they might play some songs off their own recent album, Things Are Great.
7/27: Shawn Mendes
Capital One Arena
This pop heartthrob is playing D.C. for his 18th show on Wonder: The World Tour. Known for the song, "Señorita," a collaboration with ex Camila Cabello, Mendes released a new album this year titled When You're Gone. He is playing with Irish singer-songwriter Dermott Kennedy.
7/30: Tones and I
Baltimore Soundstage
Jam along to the soothing vocals of this Australian-born artist, whose smash hit "Dance Monkey" took over radio airwaves in 2019. We can only expect the Baltimore stop on her North American tour will also include energetic performances of "Fly Away" and "Never Seen the Rain."
8/4: Kendrick Lamar
Capital One Arena
One of the most influential rappers—and arguable GOAT—Kendrick Lamar dropped his fifth studio album Mr. Morale & the Big Steppers in May, and he is taking a summer tour to share it live. The Big Steppers Tour will also have appearances from rappers Baby Keem and Tanna Leone, who are featured on the new album.
9/3: Twenty One Pilots
Capital One Arena
Scaled and Icy, released in May, is the newest album from this alternative pop-rock duo, who are known for hits like, "Heathens." Singer Peter McPoland will join them at the Caps Center as a special guest at this stop along The Icy Tour journey.
9/10: Courtney Barnett
Rams Head Live
Melbourne musician, indie innovator, and Avant Garde-ner artist (true fans will understand what we did there), Courtney Barnett is coming to Baltimore on the We Don't Ride Llamas Tour. Her lyrical genius and off-kilter guitar riffing knows no bounds, and she will wow you with her repertoire's emotional range.
9/20: Pusha T
Baltimore Soundstage
The rap icon's latest album It's Almost Dry has been praised by the likes of Billboard, Rolling Stone, and even football star Tom Brady, who recently called it the "album of the year." He's celebrating with a national tour that is taking over Baltimore's downtown venue in September. Snag tickets while you can, and expect yet-to-be-released special guests to show up on stage. (The album features everyone from Kid Cudi to Kanye, so it really could be anyone.)
Nostalgia
7/12: Big Time Rush
Pier Six Pavilion
It's been a while since we've heard from Big Time Rush, but they are back in a big way. Many grew up watching their comedic and melodic exploits on their TV show, and now you can watch them live in Baltimore for their Forever Tour. It's a good chance to hear their new hit song "Not Giving Up On You."
7/13: Barenaked Ladies
Pier Six Pavilion
The group responsible for getting The Big Bang Theory theme song so blissfully stuck in our heads are coming to town for the Last Summer on Earth Tour. With songs like "One Week," and "Pinch Me," this catchy quartet doesn't miss. Let's hope their tour name isn't a bad omen, so we can have them back again next year.
7/23: Third Eye Blind
Merriweather Post Pavilion
With hits like "Semi-Charmed Life" and "How's It Going to Be," Third Eye Blind has the best vibes for the summer. They are also joined by two more bands on the aptly named Summer Gods Tour—Taking Back Sunday and Australian rock group, Hockey Dad.
8/2-3: Rage Against the Machine w/ Run the Jewels
Capital One Arena
These two groups are hitting 12 countries for the Public Service Announcement Tour and stopping at the capital to rock the house for two nights. Just check up on the mosh-pit policy before they play "Killing in the Name Of."
8/24: Jack White
Pier Six Pavilion
Former frontman of the White Stripes, known for their hit song and unofficial Baltimore Ravens fan anthem, "Seven Nation Army," Jack White released his newest solo album, Fear of the Dawn, in April. White will be joined by singer and guitarist Cautious Clay at this show, which is part of his Supply Chain Issue Tour.
8/26: O.A.R. and Dispatch
Merriweather Post Pavilion
This group of hometown heroes from Rockville always shows some extra love at Maryland shows. They're bringing their "Love and Memories" to Merriweather on tour with Dispatch, a band known for their story-telling lyrics and inventive instrumentals. Be sure to pack a deck of cards for "That Was a Crazy Game of Poker." (True fans know.)
Classic Rockers
7/26: ZZ Top
Pier Six Pavilion
On July 22, ZZ Top plans to release their new album, RAW, which they recorded along with the creation of their 2019 Netflix documentary, That Little Ol' Band From Texas. While you'll be able to hear them rehash their greatest hits then, it doesn't get any more raw than seeing them live on their Raw Whiskey Tour.
8/16: Roger Waters
Capital One Arena
Former frontman for Pink Floyd and distinguished psychedelic rock artist Roger Waters is coming to D.C. with his repertoire of famous Pink Floyd and solo hits. His tours over recent years are known for their audio and visual mastery, and you can expect the same from the This is Not a Drill Tour. Don't miss this British bassist at his best.
8/23: Duran Duran
Merriweather Post Pavilion
If you're "Hungry like the Wolf" for some live Duran Duran, then you are in luck. This group has had 18 American hit singles and 21 songs that hit the UK top twenty. Suffice it to say, their concert will certainly top your charts.
9/21: Pet Shop Boys and New Order
Merriweather Post Pavilion
Get your fix of synth at this collaboration from two '80s pop bands that helped define the genre. This show was rescheduled from September 15, so if you bought your tickets for that date, don't fret, those tickets will be honored on the 21st.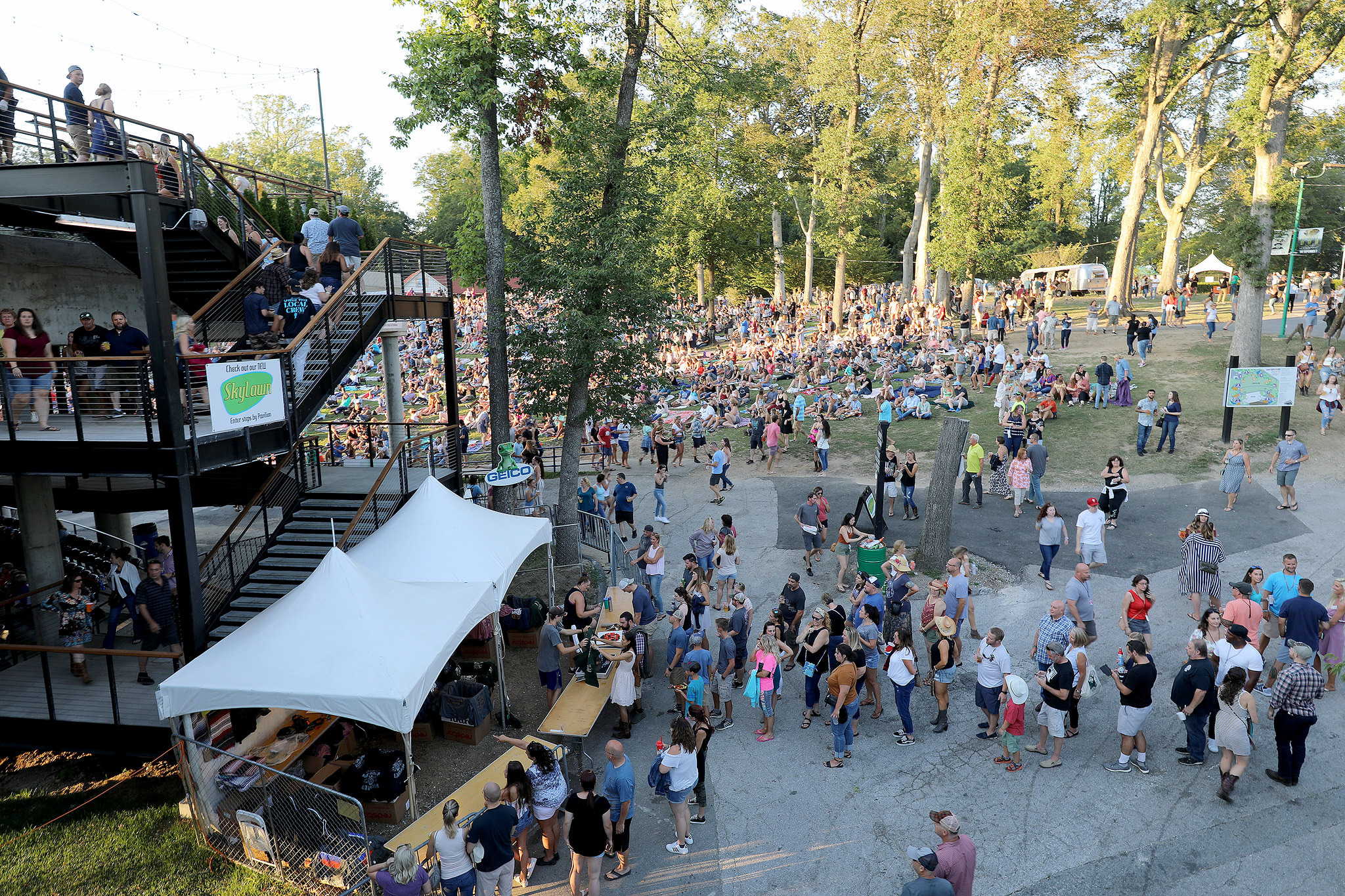 Jam Bands
7/2-3: Billy Strings
Pier Six Pavilion
You might know him for his bluegrass albums, or from his collabs with Grateful Dead drummer Bill Kreutzmann. You may even know him from his live duo with Post Malone. No matter how you know him, rest assured, this genre-crossing guitar guru will pick you something purty for two nights on the Pier.
7/30-31: Phish
Merriweather Post Pavilion
All the song-chasers can lay out on the lawn and enjoy some serious jamnation from Trey Anatasio and the gang. Whether you're following the tour or just stopping in for one or both shows, get ready for some face-melting solos.
7/28-30: Jerry's Birthday Celebration with Cris Jacobs and Friends
The 8×10
Local rockstar Cris Jacobs is wishing happy birthday to the late Americana legend, Jerry Garcia, by bringing his music to Cross Street. For three nights, Jacobs, Mookie Siegel, Ed Hough, and Dave Markowitz will celebrate Garcia in all his glory.
8/6: Better Off Dead and The Jerry Tripsters present "A Legion of Jerry!"
The 8×10
A Grateful Dead cover band and a Jerry Garcia cover band walk into a bar… the punchline? Come grab a drink at the 8×10 and see for yourself! Here, you can finish the annual late-summer celebration of Jerry, a holiday for Heads between Garcia's birthday and the memorial of his passing.
Country
7/19: Jimmy Buffet
Merriweather Post Pavilion
Gather round ye Parrot-Heads, cause the king of beach country is bringing Margaritaville to Columbia. Get a taste of island life inland with the artist who wrote "A Pirate Looks at Forty." Don't forget your cheeseburgers for this slice of paradise.
8/20: Chris Stapleton
Merriweather Post Pavilion
This singer-songwriter is rocking the country music world, and he's got the accolades to prove it. Stapleton just won three more Grammy awards—making him an eight-time winner—including Best Country Album for Starting Over and Best Country Song for "Cold." Stop by and hear what it's all about.
9/17: Outlaw Music Festival
Merriweather Post Pavilion
Longtime outlaw Willie Nelson is touring again with his famous festival. Besides Shotgun Willie himself, the show features other country stars like The Avett Brothers (who rocked Camden Yards last year), Zach Bryan, Larkin Poe, Baltimore native Brittney Spencer, and Nelson's own son, Particle Kid.
Festivals
8/20: Hot August Music Festival
Oregon Ridge Park
This annual festival is bringing the heat with returning guests and some new faces. The Revivalists are headlining and being joined by Lotus, Lettuce, Andry Frasco and the U.N., Sierra Hull, and more. They don't call it "Hot August" for nothing. Make sure to stay hydrated while you jam out at the park and catch some shade by the gorgeous Oregon Ridge woods.
9/22-25: Firefly
The Woodlands, Dover, DE.
Four days of fantastic music await you in Delaware. Each day has huge headliners in store, including Halsey, My Chemical Romance (who are making a big return from a long hiatus), Green Day, and Dua Lipa. Pitch a tent and worry about nothing besides whether you're seeing EDM, rock, pop, indie, or something somewhere in between.
7/24: Sad Summer Festival
Pier Six Pavilion
Sad Summer Fest is touring through 18 cities and bringing some of the best pop-punk bands to Baltimore. But don't actually be sad, because groups like Waterparks, Neck Deep, May Day Parade and more will bless your ears on waterfront and give you a night to remember.
8/6-7: Moonrise Festival
Pimlico Race Course
The annual two-day rave will be raging again this year at Pimlico. It's an EDM extravaganza with a massive lineup of more than 40 artists, so choose your sets wisely and come out in your wildest rave outfits.
Local Concert Series

Through August: Lurman Woodland Theatre Summer Concert Series
Lurman Woodland Theatre
This outdoor amphitheater in Catonsville is hosting free concerts every weekend from June to August. Come see groups like the Junkyard Saints, Flatland Drive Bluegrass, Code Red, and Steely Dan tribute band Technicolor Motor Home. There are different bands and genres to choose from every week. If you so please, you can support the free program through donations, too.
5/5-9/1: WTMD First Thursdays
Canton Waterfront Park
On the first Thursday of every month at 5:30 p.m., come enjoy a free show hosted by local radio station WTMD. The July 7th show features Cody Brooks, Jeremy and the Harlequins, and Skribe. The concert also includes tons of local vendors. If you get a VIP ticket, you can have access to reduced drink prices, luxury bathrooms, and up-front concert viewing.
5/27-9/16: Summer Sounds at the Square
Belvedere Square
Belvedere Square is hosting its beloved concert series once again. Every Friday from 6 p.m. to 8 p.m. you can catch musicians like Ben Sherman and Ed Hrybyk, as well as groups like Jay and Greta and Nelly's Echo (of The Voice fame.) The final concert on Sept. 16 features Kelly Bell Band for a larger event from 6-9 p.m.
6/10-8/19: Hunt Valley Towne Centre's Summer Concert Series
Hunt Valley Towne Centre
Meet up at this open-air mall every Friday to experience a different band each week. Expect sounds of the '80s from bands like Crush, beach music from Sons of Pirates, all-women Beatles cover band Magical Mystery Girls, and more. But there's more than the music. Guests can also enjoy a beer and wine garden and magic show from Liam Laugherty. Remember to bring your own chair or blanket.
6/24-August: Good Neighbor Summer Concert Series
Good Neighbor Shop, Hampden
This Falls Road neighborhood shop is partnering with the Love Groove Music Festival to launch its new monthly concert series. Grab $20 tickets for the kickoff on June 24, which will highlight live tunes by local funk band Deja Vu and artist Makinde LaVeau. All ticket-holders also get one drink on the house.